Chef Jean Yves opened his first pastry shop in San Francisco, La Nouvelle Patisserie, in 1984. Driven by his success, he then opened four other pastry shops during the 80's & 90's in the Bay Area, and successfully ran these businesses for more than 20 years.
As an experienced owner and Chef of five bakeries, Chef Jean-Yves understands the challenges that owners of pastry shops face every day.
He offers consulting services to help owners of pastry shops and bakeries run their business in a more efficient way. He will first make an assessment and then make recommendations for areas of improvements to improve efficiency and maximize profits.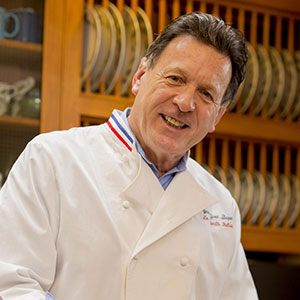 His fields of expertise include:
KITCHEN & FLOOR LOGISTICS
Chef Jean-Yves provides you with operational solutions to:
- Make the best use of the floor plan and equipment layout
- Create optimized circulation flow
- Improve overall operations
PRODUCT & RECIPE DEVELOPMENT
Chef Jean-Yves assists you in developing your products and recipes to:
- Delight your customers
- Create and build your brand
- Stand out from the competition
PRODUCTION EFFICIENCY
Chef Jean-Yves analyses your production process to:
- Decrease your costs
- Reduce wasting
- Increase revenue
STAFF TRAINING
Chef Jean-Yves managed over 1600 employees through out his career. He can train your staff to:
- Improve product quality
- Increase operational efficiency
- Increase overall client satisfaction